Ever wonder why Hassidic Jews rock the sideburn curls from the cradle to the grave and Germans keep it baby faced for life? In some instances, it's just a matter of stereotyping but in others, rules of customs and genetics make it so. If you've ever mused on why French girls let that armpit hair grow long enough to braid, look no further for the answer. We're breaking every hair-sprouting orifice, from the curiously bearded Ainu's of Japan to the Mediterranean unibrow, so that you know what to expect when it comes to hair down there and everywhere, around the world.
Head
Let's start at the top. Most races and cultures recognize the beauty in women growing their hair Rapunzel long. While men get the butt end of the double standard when it comes to long hair in America, Rastafarianism of Jamaica encourages long dreadlocks to signify the mane of the Lion of Judah. In the Jewish community, you can't miss the long hair and side locks (called payots). These are worn in the traditional sects and are meant to separate the two different parts of the brain. Similarly, the Sikh faith practices Kesh, which allows for men to grow their hair long and tie it up in a turban.
Face
As far as beards go, the indigenous Ainu of Japan reign supreme. Ancestors of Mongolians, the Ainu men go their whole lives without touching a razor to their faces. This makes for a lot of highly-esteemed mountain-man beards. Honorable mention in this category goes to the Armenians and Persians, where hairiness is a mark of splendor . Both also seem to have an affinity for the unibrow along with other dark featured races (think Mediterranean, Indian, and some Hispanic cultures), though not exclusively. Tweezers are available just not so popular.
Chest and Arms
Middle Easterners, Mediterraneans, Greeks and Armenians all embrace their inner Tom Selleck. The chest carpet is viewed as a sign of masculinity and lucky for them, it's a hereditary trait. These same nationalities also let the arm hair flow like the waters of Angel Falls. Italians, of both the male and female variety, earn a mention for their arm hair and they don't shy away from the chest hair either. From a scientific perspective, chest and arm hair is an easy way to keep warm. In these regions, it's just damn sexy and there's plenty to go around.
Armpits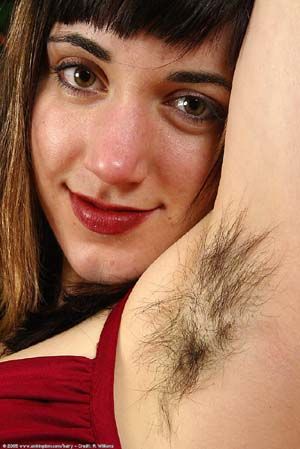 Everyone knows the stereotype that French women have wookie pits and aren't afraid to show them. If you think about it, it's more practical. Armpit hair reduces friction and keeps moisture away to prevent bacteria from forming (though it might not smell so fresh). Vanity is the only reason clean shaving the pits has spread worldwide. Since World War II, much of Europe has adopted the practice, though not all the world thinks it's necessary. Women from Southeast Asia, Czech Republic, Brazil and Spain are still unafraid to go au naturel when it comes to the underarms. For men, it goes either way, except for in Muslim cultures where it's considered unclean.
Pubic
Thirty years ago, the downstairs afro was the norm. Nowadays, pornography dictates that it's bare down there or no admittance (at least for women). From a real world perspective, there is some truth to this. The carpet doesn't always have to match the drapes in length and ironically, the same cultures that are covered in hair usually have their pubic hair removed (Muslims equate pubes with armpits). East Asia (normally thought of as a hairless bunch) is the most prone to letting the bush grow long and lustrous but with globalization, grooming down there is on the rise. Friends, manscaping is all around us.
Legs
Across the board, leg shaving is almost strictly for the ladies, with the exception of certain athletes and guys who generally like to keep it baby soft. With that in mind, light haired girls have the advantage of being able to go a long time without shaving while dark haired girls are in a constant state of stubble warfare. In the Middle East and India, hairy legs aren't a bother, (which is attributed to the fact that they keep themselves covered up and out of sight for much of the day.) While in the West women use their hairy legs as a way to express their feminism, other cultures just find it more convenient to stay bushy when a razor isn't so easy to come by.
Not all Greek men have hairy chests just like not all Americans are overweight, burger fiends. However, it is true that a large majority of these cultures are covered in hair and they're not ashamed of it. In Western culture, our disgust for hair is pushing the masses to resemble those creepy hairless cats. We'd do well to embrace our hairy heritage and take note of what many parts of the world believe: hair is natural beauty with an important purpose. Remember this when you get caught in a Russian winter with nothing but a windbreaker to stave off frostbite. If anything, it's like a living blanket that, at a moment's notice, can be sheared clean off.