No matter where you're from, you likely have a Starbucks within walking distance from your house. While you're in NYC, forget about feeding the corporate giant. There are better brews with more interesting atmospheres to explore in this fast-moving, coffee-chugging city. Here at OTP, we are very concerned with bringing you the rawest, realest most high-on-caffeine review of New York's finest coffee shops. As such, all of our reviews were written while patronizing the coffee shop under review. Let's get you cracked-out on coffee too:
Tea Lounge
Park Slope, Brooklyn
837 Union Street
From the exterior, Tea Lounge looks like another crammed cafe. Its sheer size will slap you in the face upon entry. Imagine a funky Brooklyn living room, now multiply it by 5, add both a coffee bar, wine bar, performance stage and art gallery and you will begin to understand all that is Tea Lounge. Not only will they have your perfect cup of coffee but you can choose to settle your booty atop 20 different seating arrangements (we like the green velvet armchair in the middle), catch nightly performances ranging from blue grass bands to poetry readings, grab a pita pizza (beware: they go nuts with the cheese), check out their rotating, locally baked goods (if you see the chocolate-covered Oreo, it is in your best interest to buy one) or just sit back and enjoy their free wi fi, beer, wine and late hours. But nothing is all peaches and sunshine. As this is Park Slope, mommies and their annoying babies hang out here too (and tinge the air with their smelly diapers); get some good noise-canceling headphones and you should be in the clear.
Think Coffee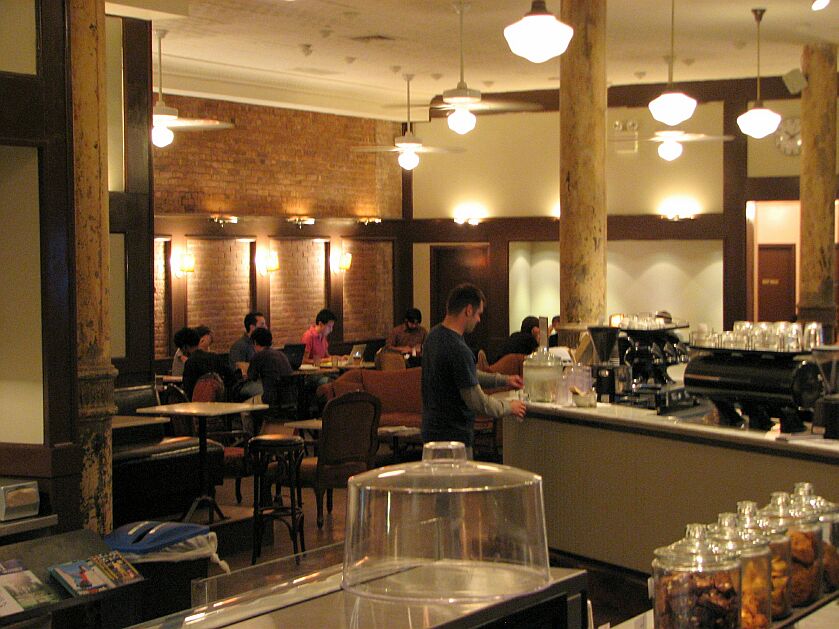 West Village
248 Mercer Street
A great spot to peruse for NYU college freshmen (they're the ones that are surrounded with beverages and look like they haven't slept in weeks), this coffee shop also incorporates a large bar in its center. Internet is spotty and electrical outlets are hard to come by. The food is over-priced and mostly vegetarian. They stay open pretty late (until 11:30pm) but are insanely busy consistently throughout the day. All of this sounds pretty bad but the atmosphere is something worth checking out. For starters, NYU students are hot as hell. For finishers, true to its name, the place really feels like a think tank. Try it out, maybe you can absorb a few bright ideas.
'Snice
West Village
45 8th Avenue
There are two locations of 'Snice, one in Park Slope and the other in the West Village. The Park Slope location is nice but the West Village spot kicks ass (its bigger, badder and you don't have to go through a baby stroller obstacle course to get to the register). It has all the great qualities of a Grade A coffee dispensary minus the wi fi (neither free nor paid at the West Village location). It almost didn't make our list for this reason but as its excellent in all other aspects, we forgave it begrudgingly due to its great coffee, food and atmosphere. The space breathes and is filled with rustic wooden tables. Their salads deserve a Noble Peace Prize. Your food comes up fast but it tastes as though they spent eternity crafting it. Get a good book, an autumn salad and a cup of coffee and joy will follow.
B Cup Cafe
East Village
212 Avenue B
The East Village is the queen of coffee shops and this place captures the neighborhood vibe well, complete with free wi fi, comfy couch, hiding area in the back for anti-social writers and baked goods of the healthy (and guilty) varieties. Their coffee is average (but served in mini-carafes which makes it cuter than average) but their sandwiches rock. OTP sampled the hummus sandwich on a whole wheat baguette and with its hummus, pickles, olives, tomatoes and hard boiled egg, it won our hearts. The décor is middle-eastern chic and the tunes are mostly Elton John. Underneath their heavy accents, the staff are friendly and courteous. B Cup attracts a lot of locals so try to blend in.
Gorilla Coffee
Park Slope, Brooklyn
97 5th Avenue
Although normally known for their great, Brooklyn-roasted coffee and nice, chill neighborhood shop ambiance, this place has become better-known for its behind-the-counter drama (news that made its way into the New York Times). In early April 2010, seven, non-unionized baristas straight up quit citing mistreatment by management as their reason for dumping the place. This massive worker shortage caused Gorilla to close it's doors for 16 days and put neighborhood coffee-goers into a confused, energy-deficient frenzy. People wanted their coffee, babies were crying, dogs were barking and to Park Slope, it seemed like the end of the world was near (check Fucked in Park Slope for further details on the disaster). If Gorilla's closure caused this much damage, they must have been serving something worth crying about. Lucky for you, the shop is re-staffed and open for business again (with new floors and paint). So whether you want to drop in to check out how things with the whole new set of staff are settling or to get a good brew, Gorilla is a fun place to visit..
Cafe Ost
East Village
441 E. 12th Street
The people behind the counter can't afford to be as pretentious as they are given the watery coffee they're serving. This place is mainly on our list because of their perfect people-watching décor. The dim colors and patterns of the interior create a feeling like you're inside of an old photograph in Vienna. The tables are all marble and vary in height. This staggering of heights, in combination with their dramatic floor to ceiling windows, puts the passers-by in good viewing distance (so you can be a creepy stalker like everyone else). You see, East Village is a gathering of gorgeous people wearing crazy outfits, old drunks, lunatics, artists and others worthy of watching and getting a seat at Ost is like having front row tickets.
Where to Go for JUST Coffee
Just coffee. No atmosphere or wi fi; no eclectic couches or inspirational art on the walls. Just the blood-pumping, ulcer-causing, stool-hardening drink of drinks.
Third Rail
West Village
240 Sullivan Street
This is where NYU students go to get their rabid need for speed on. There are a few little seats on the parameter but this isn't the kind of place you go to sit. Your best bet is to get a small coffee (unless, of course, you want to be awake for 24 hours).
Abraco
East Village
86 East 7th Street
This little place has been reviewed by everyone and their mother (namely, New York Magazine, New York Times, with raves on Yelp and Chowhound). OTP went in, tired and listless, for a boost of the good stuff. We came out with a little more hop to our step thanks to Abraco's deep, rich brew. Magic.
Stumptown
Chelsea
18 West 29th Street
At the foot of NYC's Ace Hotel is a coffee haven. Stumptown Roasters are Portland, Oregon based and don't f*ck around when it comes to coffee. The shop itself is damn serious. Their baristas look like they were subjected to a 5 step interview process, everything is shiny and pristine and their pastries are displayed like rare works of museum art below a glass counter. The coffee stands up to its surroundings boldly and with confidence, almost like it knows how good it is. Cocky but for a reason.
Cafe Grumpy
Chelsea
224 West 20th Street
While they sell regular priced coffee as well, the sheer craziness of their $12 brew is the the reason they made our list. Said to come from hand-picked, Ethiopian coffee beans, at $12 a cup, it should come with a blow job. All joking aside, their coffee is quite refined. We're smiling at you Cafe Grumpy.
An added bonus: the best coffee on wheels:
The Mud Spot Coffee Truck
When something stationary just won't do, this truck parks on 4th Avenue and 8th street. The truck's original mission was to stop Starbucks' takeover by parking itself in the middle of two "generic coffee monsters"(across the street from each other) and offering great coffee, great service and no attitude. OTP likes that this truck has balls (under the exhaust, take a look). Luckily, their coffee is good enough to back up those balls and knowing that you're sticking it to the big guys is the biggest perk.